On September 16 and 17, the Suzuki Atacama Owners Raid took place, as a prelude to the Suzuki Owners Raid that will occur next January 2022. The test race was carried out in the city of Copiapó (Chile), in the Mar de Dunas sector in the Atacama region, with more than 70 vehicles and 200 registered participants, including pilots and assistants.
Ascent and skill tests were held throughout the event, with competitors from all over Chile participating across the divisions of novices and experts. Among the participating drivers was Miguel Ángel Bustamante, sponsored by Alphalube (Olipes partner in Chile), at the controls of a Suzuki Vitara especially adapted in the last two months for the Raid.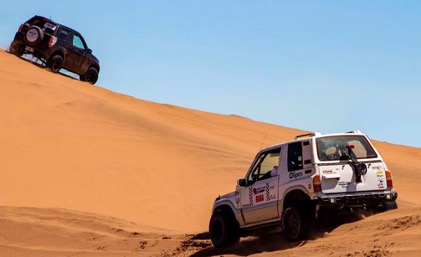 The racing world is the best test laboratory for automotive lubricants, with drivers demanding the highest performance from engines, transmissions, brakes, cooling systems and other mechanical components in the toughest conditions on the planet. It is in these situations that the maximum quality and reliability of OLIPES lubricants ensures that everything moves with perfection.
This has been verified once again during the competition that took place in the arid Chilean desert, in which the Suzuki Vitara driven by Miguel Ángel has performed at the highest level. In his words: "we arrived at the Raid at the last minute with no time to test the jeep on the dunes or on the streets. We completed two intense days covering the competition route without any problems whatsoever. We absolutely smashed it!".
That's why the best drivers and their teams trust in Olipes, the highest quality and most reliable lubricants.